No manga talk beyond what has been covered up to the current episode please. Also don't be that guy who thinks they are clever by constantly hint-hinting at stuff, or the person who constantly asks questions that would obviously be a spoiler if answered.
It been four years since the Attack on Titan anime exploded into popularity. Do people still give a shit anymore? Lets find out!!
In case you need a quick recap and summary because its been four years - and I don't really blame you - here's a refresher.
Humanity as we know it has been driven to the brink of extinction by massive humanoid monsters known as Titans, big, dumb and naked creatures of varying degrees of size and intelligence. While mostly mindless and seemingly without a goal, the sheer number of Titans and their durability has pushed mankind into a very small region of the world. The last bastion of humanity lies within a city surrounded by a massive 50 meter wall, with two more walls of equal size inside the city. This kept the Titans out, until the appearance of two smarter and bigger Titans - a Titan covered in armor, and one tall enough to tower over the wall.

Enter the Survey Corps - a portion of the military dedicated to combating and studying the Titans, as well as exploration outside the walls. While commonly thought of as an army of suicidal people due to their low success rate and high mortality rate, they still symbolize hope for mankind. They are the most adept when it comes to the usage of the vertical maneuvering gear - or 3DMG - allowing for Spider-Man like swinging abilities and the ideal method to swing onto a Titan and cut their largest weak point; the nape of the neck. Most of our main characters are Survey Corps.

While a dedicated member of the Survey Corps, Eren Yeager is eventually eaten by a Titan and killed in battle. But suddenly, the Titan who ate him erupts from within and there stands a smarter Titan that looks just like him. After winning the trust of the military and learning how to shift into the form at will, Eren becomes the keystone of the offense against the Titans.

After carrying a boulder for 5 episodes to clog up a hole, it becomes clear that using Eren's Titan abilities can be a huge advantage. During an expedition outside the walls in a forest area, another shocking discovery was made of a female Titan very similar to Eren who is openly hostile. This culminates in the reveal that the female Titan is in fact one of their Survey Corps comrades, Annie. After her defeat, Annie manages to harden her body into pure crystal and block any attempts at interrogation.

Where do Annie's allegiances lie? What is the nature of the mysterious Titan "Shifters" who can seemingly turn into a Titan at will? Are there other humans outside the walls? What are the Titans? What is the nature of the Titan found inside one of the walls after the battle with Annie? Whats in that fucking basement anyway? Maybe you will get answers to some of these! I'm not tellin'!
Staff and Cast
Director - Tetsurou Araki
Sound Director - Misafumi Mima
Character Design - Yoji Asano
Original Creator - Hajime Isayama
Music -
Hiroyuki Sawano
Eren Yeager - Voiced by Yuki Kaji (Yukine from Norigami, Koichi in JoJo's Bizarre Adventure, Kenma in Haikyuu)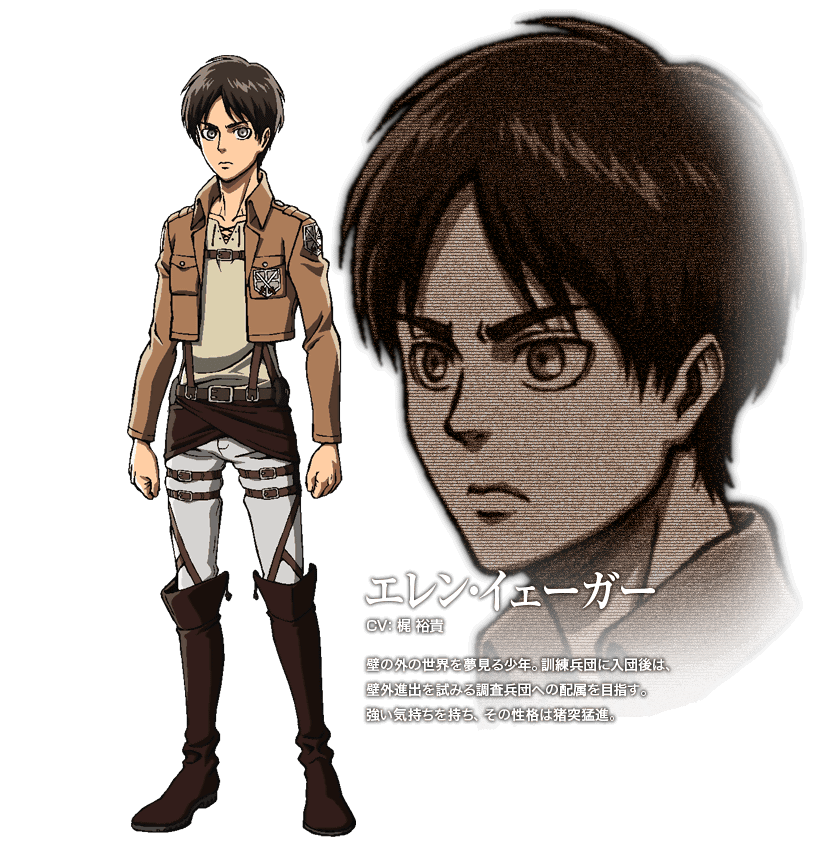 Eren is our main character and also a huge idiot who can never win a fight. His main talents are yelling, being angry, swearing to wipe out all the Titans, and losing fights.
Mikasa Ackerman - Voiced by Yui Ishikawa (China in Gundam Build Fighters, Koto in Gi(a)rlish Number)
Hobbies – Eren
Height – Eren
Weight – Eren
Birthday – Eren
Blood Type – Eren
Zodiac - Eren
Armin Arlert - Voiced by Marina Inoue (Laura from Infinite Stratos, Sodachi in Owarimonogatari, Yoko in Gurren Lagann)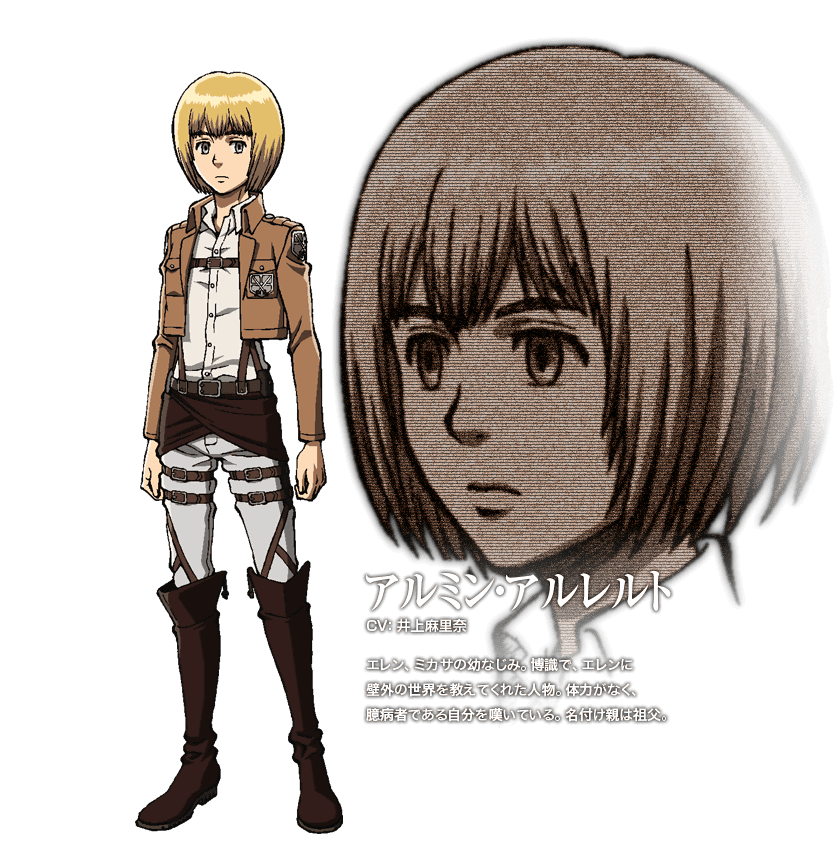 Armin is a huge coward who is actually useful, proving that coward scumbag tactics are more valuable than sheer bravado like Eren. He likes to cry about Titans, cry about the Ocean and cry that his hair looks dumb.
ReviRivaiRavioli
Captain Levi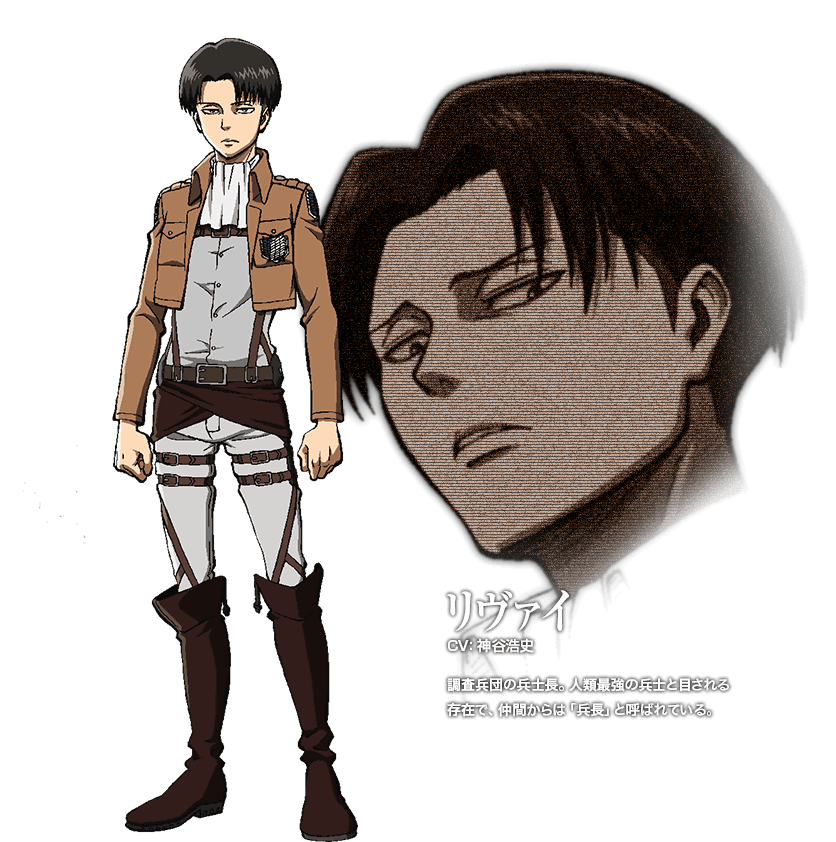 Ravioli heichou is the ubermencsh of humanity despite being 5 foot 2. He is known for getting more work done then Eren despite not being a Shifter, being a neat freak, beating up Eren and making fangirls wet themselves.
Hanji Zoe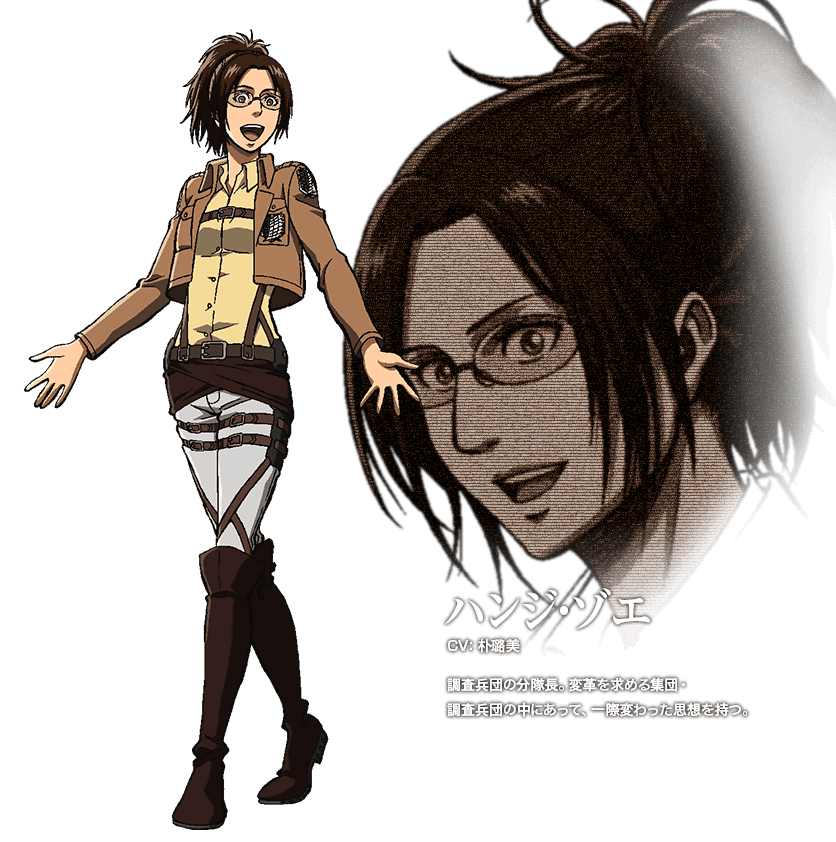 Hanji is a weirdo who is obsessed with the biology of Titans and Ravioli's co-commander. She is normally jubilant and cheery, but has a tendency to have mood swings, usually to anger.
ALSO FEATURING - Potato Girl, Bert and Ernie, a girl made of crystal, Speed Weed, Based Erwin, Christa and Gay for Christa, The Skulls Parasite Unit, Marco's Corpse, King Kong, The Basement and Jeans. Oh yeah and Connie.
INFO
AIRS SATURDAY, APRIL 1ST AND EVERY SATURDAY AFTER THAT. 10:30 AM ET
THIS SEASON IS TWELVE EPISODES
Official Site
PV1
PV2
Crunchyroll
Hulu
Funimation
AnimeLab (AUS and NZ)
No subscriptions? Simulcast the first episode for free with VRV using Crunchyroll